Addendum to "My Horror Story", most recently updated, October 19th, 2005
---
August 11, 1999.
In spite of Grant Hardwick's ultimatum to cease and desist with the "campaign of facsimile barrages"; I turned my original 3 page rendition into the much lengthier version that I faxed again and now have displayed as My Horror Story". Kirby Grant, my Legal Aid lawyer informed me that Mr. Hardwick was fine with the long version. No law suit for slander, I guess.
Mr. Hardwick has taken several attempts to have my home sold to satisfy the judgment that Master Bishop delivered on the taxation of my account with them (Salloum Doak) but so far Ms. Grant has been able to put them off.
I was served on another matter last August. It appears that Jeffery P. Scoutin of Scoutin and Crossin, the (second) lawyer appointed to represent Marc R.B. Whittemore, the lawyer that I tried to sue, finally decided that he (Mr. Scoutin) deserved to be paid for perpetuating Mr. Whittemore's lies. Mr. Scoutin stated in filing his motion, that this matter would be of a contentious nature and would take approximately two and a half hours to hear.
I was unfortunate to walk into the courtroom at five minutes after ten A.M., the hearing being scheduled (as all are) for ten A.M. Master Bishop (now why doesn't it suprise me that he would be presiding) looked up at the clock and informed me; "you're late, Mr. Thomson. It's over! You've missed it!" I was shocked but managed to respond that it is absolutely amazing that he (Master Bishop) could be satisfied that justice had been served in the five short minutes that it took Mr. Scoutin to say his piece in a matter that he himself estimated would take two and a half hours! Then I walked out.
So now I have two law firms with decisions attached to my home. I think that they plan on getting together to force a court ordered sale of my home. It's been quiet so far. (touch wood)
September 23, 2005.

This summer I was served a Petition filed by Grant Hardwick, asking for orders for the sale of and the complete control over the sale of my home. In response, I filed a lengthy "Asseveration" of 150 paragraphs (soon to be posted) and a Notice of Motion (80 bucks), demanding that the Court strike the Petition. I was told that I'd filed the wrong form. I needed to file an "originating application" - 230 bucks

David Lindsay agreed to help and to speak on my behalf and then drafted an Affidavit and Petition, demanding that the court strike Hardwick's Petition. Due to the $ 230.00 filing fee, it was agreed that the Court entertain a finding of indigent status, my having to survive on a meagre disability pension.

Judge Rice presiding, neglected to hear the evidence; for instance, the tape recording of Grant Hardwick's assurance

on the day that they quit, that there'd be 5 cents remaining from 7,500 dollars, or Marvin Geekie's tape-recorded admission of prejudice

. Judge rice made no mention of any David's submissions.
Roy Sommerley's only submission that day was to voice his objection over David Lindsay speaking on my behalf. Roy knows that I reside on a disability pension, making legal counsel unaffordable for me. Roy knows that my disability status is founded on my being dignosed as suffering from an "anxiety disorder", ie: "mentally challenged". Judge Rice allowed David to speak in spite of Roy's concerns.
Judge Rice was ready to rule on the matter as soon as David Lindsay finished with his opening submissions; Roy need not say a thing, the judge instructed. Judge Rice Ordered the sale of my home and Ordered that Grant Hardwick should have complete control of the sale of my home.
Judge Rice awarding cost in favour of the Petitioner @ scale 3 - $ 1,600.00, I recall. He said also that I could go ahead and file my Petition, "but I wouldn't advise it." He finished by saying that he simply could not believe that a Master of the Supreme Court could be a part of my outrageous allegations.
Judge Rice never bothered to consider any on the 150 paragraphs that I filed as my Asseveration on July 22nd, 2005, wherein there was at least one constitutional challenge, overlooked.
With their Orders in hand, Roy Sommerey writes me a "proposal".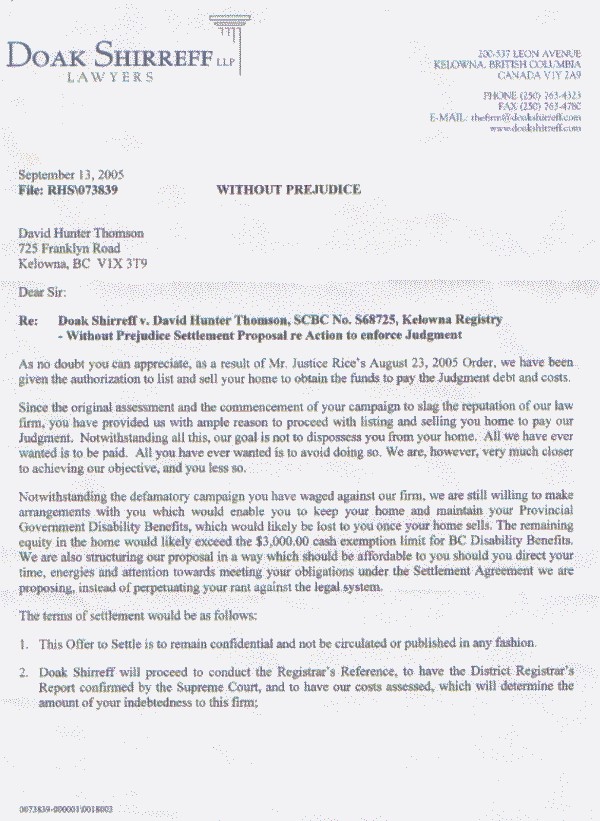 Note to Roy Sommerey:
Roy, regarding paragraph 2, above, all I'd ever wanted to do is see Grant carry out Salloum Doak's end of the agreement with me.
Your reference to my "campaign to slag the reputation of our law firm", is in and of itself, a slander against my good name. Your client, Grant Hardwick was extended my invitation in 1997; if he had concerns, put them on paper and if they're valid, I'd print a retraction.Your glib reference to my tenuous position regarding my disability benefits, should I not acquiese to all of your demands is just anther example intimidation, excercing your judgement beyond its' scope.
When you refer to my remaining equity likely exceeding $3,000.00, would that be in the same spirit as when your client, Grant assured me that there'd be 5 cents remaining?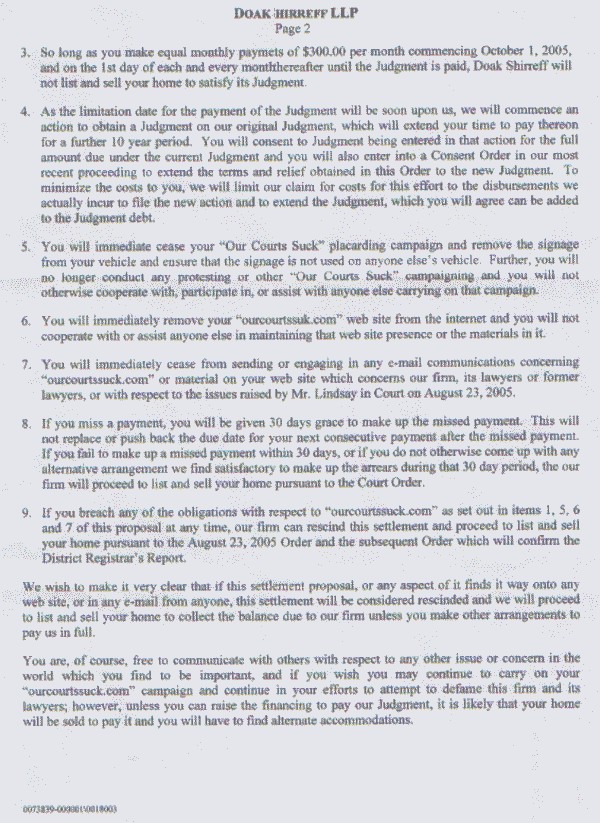 Seriously Roy, your absolutely contemptuous disregard for my right to speak the truth freely, is most reprehensible. It amounts to no less than extortion, but then this whole matter has been no less than extortion and now I feel that I have no choice but to try to mitigate my damages.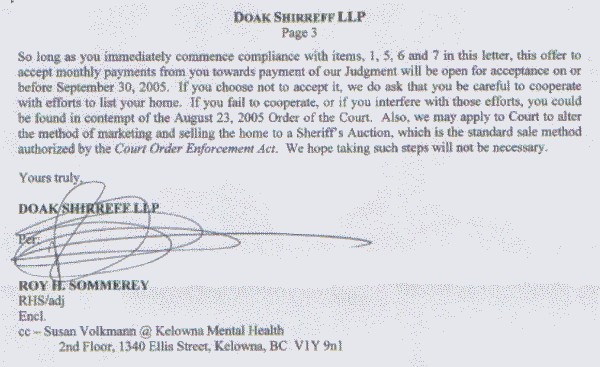 On a disability pension of about 850.00 a month, Roy's proposal eats up what I would, otherwise, after I pay my existing 1st mortgage of $ 532.00 per month. I also receive $ 410.00 a month in "rental income" but that is absorbed in utilities, maintenance, insurance, phone, internet, gas, vehicle maintenance, more insurance...

Of course I would also have borrow enough money to pay out the lien that Marc Whittemore holds on behalf of the Lawyers' Insurance Fund, whose agent for Whittemore is Hazel Cords

I have done business with Interior Savings Credit Union for 20 years, now, never missing a payment; but because they won't extend me a new 1st mortgage to satisfy these judgements, I have no choice but to find a new 1st mortgager that will finance a new mortgage of about $ 100,000.00 against my home that I purchased 18 years ago, that should have been paid in full, last year.

They tell me that the nail that keeps sticking back up, keeps getting hammered. So now, do I just stay down?


After much deliberation, I sent Roy an email and he replied, starting off an email exchange

until Roy objected to my desire to keep others informed. So I wrote Roy a private letter to which he never replied.
Then, I wrote him another letter to which he also never replied.
Then I filed a Notice to Admit and served it on him.
Then I filed the Affidavit that David Lindsay compiled and drafted in support of the Petition that Judge Rice said that I could file, but that he "wouldn't advise it"
I also sent a copy of the above Affidavit, including a compact disk of the tape-recorded conversation in mp3 format, to Jonathan Corbett, the latest agent from the Lawyers' Insurance Fund, who inherited the file, now, from Hazel Cords.
I never did get a reply from Hazel Cords to my letter, wherein I asked her if it was her intention to become implicated in fraud and extortion... I guess not, eh.
Yours very truly,