Pedophile Protection Program?
It appears that the RCMP investigation failed to check out the classified ads under the heading, "Escort Services"
---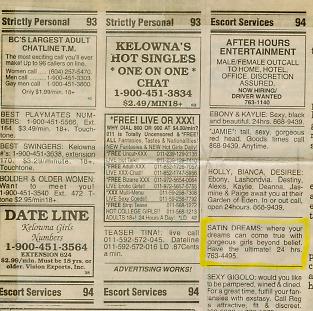 Does Staff Sergeant Hill understand his jurisdiction as a Peace Officer in the employ of the RCMP? Does he not understand that theft is a breach of the Criminal Code of Canada? It appears not...
Back to our story...
www.ourcourtssuck.com
You be the Judge!
idslayer@ourcourtssuck.com
Back to Pedophile Protection Program?...
Back to Our Courts...
My Horror Story
Evidence
Authorities
Politics
Addendum
Another Horror Story
Threats
Divorce Court is an Industry
Karl-Heintz Eisbrenner - the Brouwer/Kuiper Case
A Tale of 2 Lawyers
Bushman of the Shuswap
WCB, Attorney General and Others, Acting in Collusion, Fraud and Other Shenanigans
Revenue Canada Caught in the Act
Eddie Haymour's Plea to the Queen
Pig in a Poke
Take a Trip...
Buy My Signs
The BookStore
Links