Support Your Local Whistle-Blower!
In the 2005 Provincial Election
Meet the candidate for Kelowna-Lake Country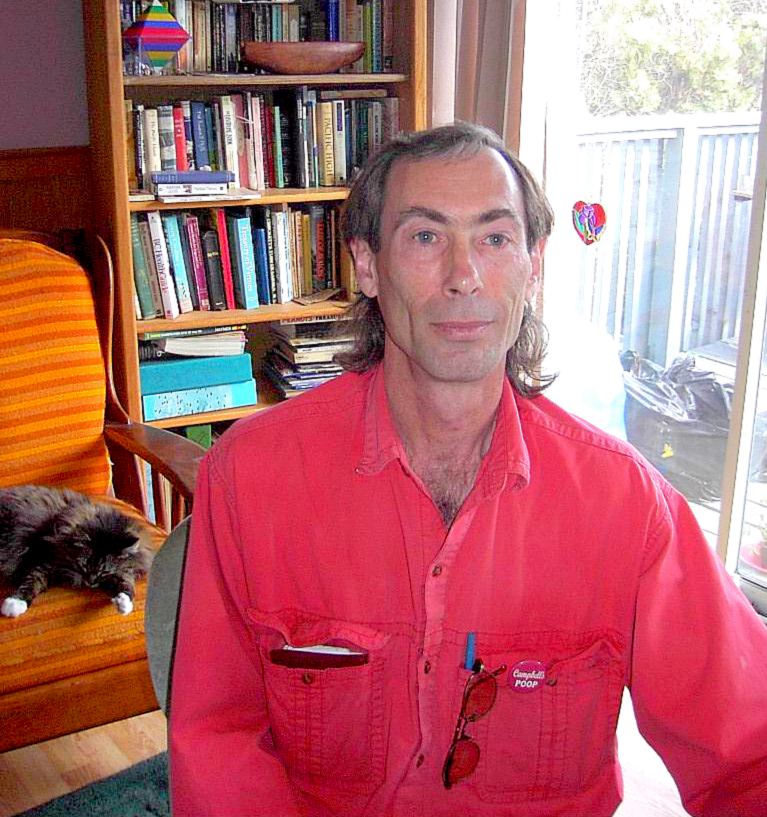 ---
May 4, 2005.

Ladies and Gentlemen;

Please allow me to introduce myself.

My name is David Thomson and I was born in Vancouver, British Columbia. I was raised in Lakeview Heights, where my folks, Robert and Madeline Thomson settled on V.L.A. property to raise their family, after my father retired from active military service in 1955.

Being raised in the Okanagan where I have lived, primarily, all of my life, I am acutely aware of our local issues. However, my real education did not commence until, when after 7 years in business, I decided to sell my trash collection business, Westside Refuse Collection.

It was after this transaction and subsequent litigation that my "schooling" kicked in, resulting in my first publication, www.ourcourtssuck.com. I learned that in Canada we donít assassinate our political opponents we assassinate their characters.

I also learned that our party system is fundamentally flawed. How can I, as your elected representative to the legislative assembly, possibly represent your interests if I must adhere to party policy? The possibility for a conflict of interest to arise is evident, every time an MP or MLA "crosses the floor".

After competing in the 2001 provincial election under the banner of the B.C. Action Party, it has been my fervent intention to campaign in this election as an independent. Unfortunately, I would need a CGA to audit my campaign contributions and I can think of nobody who would risk their professional position by supporting someone in my position.

And then I saw an ad in the Capital News - the B.C. Marijuana Party was looking for a candidate for Kelowna - Lake Country. After careful consideration, I decided to risk my credibility for this opportunity to speak out publicly about what it is that is undermining citizens of this province, subverting our collective economic well-being along with every other aspect of our social security.


I got my package from Elections BC - forms for the financial agent to fill out and another guide. This guide says that I only need a CGA to audit my contributions if they meet or exceed ten-thousand dollars! So it seems I've been had - and so would any other potential candidate who reads the "candidates guide" in the 1st package they give you.
---
From health-care to education, our debt-ridden position is eroding our ability to look after ourselves, while private corporate interests swallow our public assets behind closed doors. No transparency, no consultation and no consideration for the well-being of British Columbia families, our public trustees have been wholesaling everything from our railroads, highways and public utilities, to our employment base.
What this amounts to, minimally, is a succession of acts in breach of public trust. Where our assets are sold off to foreign private interests, such acts satisfy all of the elements necessary for a charge of treason.
By far the greatest criminal act in the history of Canadian politics was the usurpation of the powers of the Federal Reserve Bank of Canada. Where our Federal Reserve had the sole power to create all of the nationís money for the cost of the paper, the ink and the labour, we now borrow it into creation through private banks that charge us arbitrary interest rates. It is these interest rates that have caused our debt, federally, provincially and municipally, to soar out of control, compounding the principal beyond our control to ever repay it.
If I am given the opportunity to repair the damage, I will:
a) Press to invoke the powers of the Federal Reserve Bank of Canada to issue an interest-free loan for which it was created and is still legislated to do, to pay off the entire debt of British Columbia, putting an end to the interest that escalates our debt, faster than we could ever begin to repay it.
b) Take whatever steps necessary to hold accountable, all politicians, bureaucrats and other political appointees, criminally and civilly liable for their varied and numerous acts that have harmed British Columbians and breached their public trust.
c) Expropriate back those public assets that have been sold off without consideration for the benefit of British Columbian families. If W.A.C. Bennett was able to that with B.C. Electric, a privately owned company, so should we!
d) Push to abrogate from NAFTA, a trade pact that is anything but fair to Canadians but especially unfair to British Columbians.
e) Search out other foreign markets, more appreciative of our softwood lumber products, such as Britain who would jump at the opportunity.
f) Place a prohibition on the export of all raw logs.
g) Put in place, incentives for millworks and other industry to set up and operate, employing local labour to create finished products that reflect the real value of our raw resources.
h) Make the focus of health care, the care of our good health, rather than the diagnosis of and treatment of disease, such as it exists today, with its focus on drugs. (55% of health care costs being pharmaceuticals)
There is only one issue in any political campaign - Integrity!
I urge British Columbians to examine your candidates carefully, listen intently for the truth to ring out, ignore the party system and vote with your hearts.
It is high time we British Columbians send a message to Victoria that they cannot ignore - send your most outspoken critic to our Legislative Assembly.
A vote for David Thomson is a vote to arrest political, bureaucratic and judicial corruption.

For more information on the position of David Thomson,
view the publication, www.ourcourtssuck.com
idslayer@ourcourtssuck.com