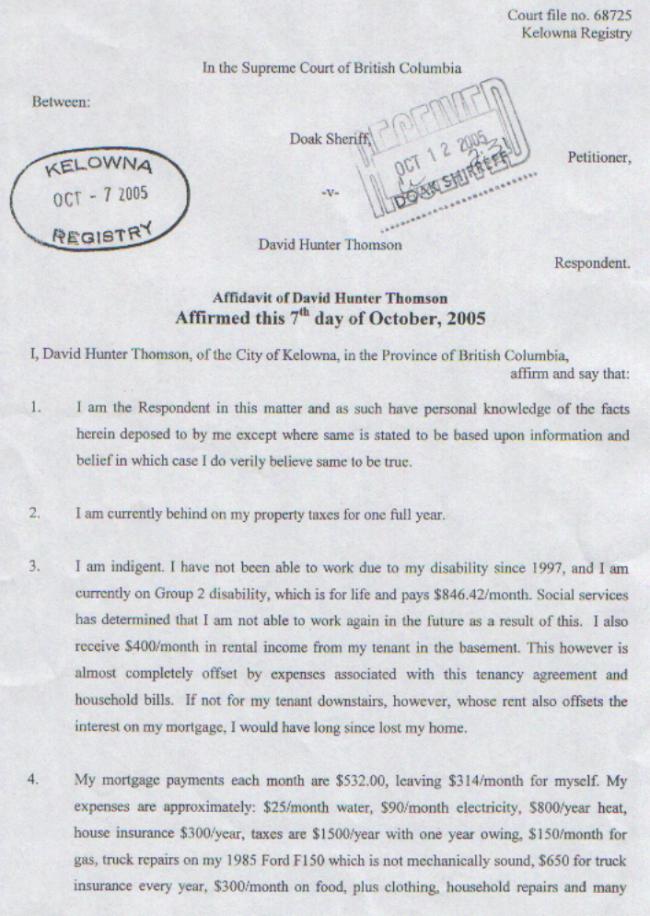 other expenses. I am registered with the Kelowna Food Bank and have had to rely at times on their charity and even the charity of friends and neighbours to survive. I do not have the money to pay for my necessary affidavits nor the Petition to strike the claim against me

5. David-Kevin: Lindsay has checked with Legal Aid on my behalf and was told by staff there that due to cutbacks, they do not assist in any civil matters, no matter how urgent the matter. In any event, as my previous lawyer Mr. Marvin Geekie informed me in 1996, which is part of my position in this matter, his law firm, Salloum Doak, quit as my lawyer only one working day prior to court exclusively because of a conflict of interest which Mr. Geekie knowingly and willfully withheld from me; my case had to do with corruption by another lawyer and Mr. Geekie claimed that he had to work with this lawyer, Mr. Whittemore every day and live in the same town with him and because people in this small town might start speaking of this. Similarly today, I do not believe that I will obtain any competent counsel, as is my right, because I do verily believe that any lawyer I may seek to retain will take similar views. I have serious fears, concerns and beliefs that I will not be accorded competent counsel who will press my case to the fullest as this case involves my allegations of corruption against other lawyers. I go into further detail on this below herein.

Asservation of David Hunter Thomson, Affirmed July 21, 2005

6. I am involved in no other legal actions other than this one.

7. The last time I filed an income tax return was 2000. I am only required to file a return if I have taxable income and I do not meet this criteria. I had a total net income that year of $10 786.27. I do not have the required funds to pay the amount of costs to defend myself in this action as I am indigent.

See attached Exhibit "A" – true copy of my 2000 income tax return

8. I have substantial merit to my case in this action. To summarize the travesty of injustice that has been perpetrated upon me by the Petitioner and its lawyers as detailed further below herein, Mr. Geekie for the Petitioner law firm knowingly and willfully breached his contract and undertaking to me. This contract stated that he would "..bring both matters to trial.." for the estimated price of $10 000 - $15 000. This being both my cases against Mr. Whittemore and against the purchaser of my previous company who had defaulted on its financial obligations to me, directly as a result of Mr. Whittemore's gross professional negligence and failure to ensure that the appropriate security provisions were in my contract to sell. This was admitted to me by Mr. Salloum when I first approached his company to represent me. Not only did Mr. Geekie and Mr. Hardwick breach their contract, but they were in a knowing conflict of interest in my case from the beginning, they knew of this and refused to tell me until they quit as my lawyer one working day prior to my trial. This travesty doesn't stop there. Mr. Geekie admitted to me that he was working with Mr. Whittemore, the lawyer whom I was suing, "on a daily basis" all the while he was representing me for over 2 years.

9. The Petitioner is the law firm, Doak Shirreff, was formerly known as Salloum Doak.

10. The lawyers, Marvin Geekie and Grant Hardwick were members of this law firm. Mr. Geekie is no longer with the Respondent firm. These lawyers' actions in relation to my action against Mr. Whittemore and the purchaser of my former business, amount to fraud, misrepresentation and suppression of facts; they were in conflict of interest at the time they signed their undertaking to represent me, never told me and deceived me for over 2 years to the effect that they were acting in my best interests when in fact they were knowingly not doing so. The facts herein are of sufficient warrant and seriousness, both publicly and privately, to justify either striking the Petitioner Doak Shirreff's claim and/or reopening the original hearing.

11. I was a client of the Respondent law firm from May 1992 until February 2, 1995. I originally hired the Respondent law firm in my suit against Valley Waste Systems Ltd. who defaulted on their purchase of my business. In May 1992, the Respondents agreed to represent me in all matters, including my suit against lawyer Marc Whittemore.

12. I originally discussed his case with Mr. Lawrence Salloum prior to retaining his firm and who advised me that indeed, Mr. Whittemore's actions were negligent and as outlined below, he had failed to provide for security for the finance portion of the sale of my business, upon which I had hired Mr. Whittemore in the first place. I estimate to have lost approximately $50 000 due to the negligent actions of Mr. Whittemore.

13. The Defendant Mr. Whittemore in my law suit, negligently executed the sale of my former business without property security. My claim against Mr. Whittemore was for negligence and for my losses in the amount of about $50 000 due to the purchaser defaulting on its obligations. The contract became frustrated due to default by the purchaser and I was unable to realize on my sale as a result of said default, due to the negligent advice given to me from Mr. Whittemore to the effect that the contract was a safe contract. It was not and as a result I lost the "lion's share" of the sale price.

14. I then hired lawyer Mr. Geekie with Mr. Hardwick supervising from the Petitioner law firm. On November 2, 1993, Mr. Geekie served me with their undertaking in this matter.

See attached Exhibit "B" – November 2, 1993 undertaking of Mr. Geekie

15. Lawyers Geekie and Hardwick were both aware ab initio that my law suit was against another lawyer and member of the Law Society. They informed me that this would not be a factor and undertook to act for me for over the next 2 years. Mr. Geekie subsequently admitted to knowing of a conflict of interest in this regard, two years later on one working day prior to trial, when they resigned as my lawyers.

16. In November 22, 1993, default judgment was obtained against the Defendant Valley Waste Systems Ltd. The lawyers Mr. Geekie and Mr. Hardwick continued in their previously agreed undertaking to proceed in my suit against Mr. Whittemore and the parent corporation of the said Defendant in my suit.

17. In June 1994, Mr. Geekie knowingly filed with the Court a false Trial Certificate, Certificate of Readiness, and Trial Record Book, receiving a trial date of October 17, 1994 with respect to my law suit against Mr. Whittemore.

See attached Exhibit "C" – copy of Trial Record

18. This hearing date was adjourned to February 6, 1995 when Mr. Whittemore's lawyer resigned. Mr. Hardwick then commenced discoveries with Mr. Whittemore in January of 1995, indicating to me that he misrepresented himself to me and the Court, by claiming to be ready for trial in June 1994, when in fact he knew he was not and had not complied with the Rules of Court or in my bests interests, by failing to conduct proper and complete discoveries prior to the originally scheduled trial date. I was lied to and deceived by Mr. Hardwick to the effect that he was ready for trial when in fact he was not and if trial had gone ahead as scheduled, he would have done so in the absence of any examinations or discoveries on my part.

19. Mr. Whittemore then served upon my lawyers his Rule 18A application on or about the first week of January 1995.

20. On Friday February 2, 1995, I attended the offices of my lawyers Mr. Geekie and Mr. Hardwick in the morning as a result of a phone call asking for my attendance by the law firm. I did not know what this meeting was about, other than my belief it was to prepare for trial the following Monday.

21. During this hearing, Mr. Geekie admitted to me, after having control of my case for over 2 years, that there was a conflict of interest and that they were withdrawing as counsel for me because they refused to be involved in a legal action against another lawyer, whom they had to work with "on a daily basis." Mr. Geekie also told me that they were scared of people talking about this issue.

22. These facts were known to Mr. Geekie and Mr. Hardwick, ab initio 2 years prior, and they proceeded to give an undertaking to take my matters to trial notwithstanding that Mr. Whittemore was a lawyer and these factors he was now relying upon. This was a materially false representation of fact later admitted to by Mr. Geekie on February 2.

23. I went to court the morning of February 2, 1995 after our meeting and the case was adjourned to week of June 25, 1995 after Mr. Geekie appeared at court and resigned as my lawyer.

24. I then appeared before Judge Hamilton on April 10, 1995 for the purpose of having my file released to me from my lawyers, as I was prejudiced in presenting my case to the court. Judge Hamilton agreed and ordered the file be turned over to the registry to permit me to have access to it.

25. I, who had and have no legal experience, then vainly attempted to prepare for trial. Trial was 3 ½ days. Due in part to improprieties by Mr. Whittemore, as well as the actions of Mr. Geekie and Mr. Hardwick, I lost this case, after Mr. Salloum, Mr. Geekie and Mr. Hardwick has previously at one time said I had an excellent chance of winning and that Mr. Whittemore was negligent. I then filed for appeal to the Court of Appeal.

26. I also applied for taxation of costs by my lawyers. Although Mr. Hardwick originally told me during our February 2 meeting that costs would still leave me with money, immediately after leaving the room Mr. Geekie presented me with a whopping $14 000 bill. I had and have no idea as to what justified this whopping bill, as these lawyers had done virtually nothing for me over the past 2 years. Minutes later, Mr. Geekie admitted to me, as outlined further below herein, of his conflict of interest, which was suppressed from me by them.

27. During the May 13, 1996 hearing on taxation, for reasons unknown to me, Master Bishop ordered a psychiatric examination upon me. I have never heard, nor has anyone I have ever talked to, heard about such an examination being forced upon someone who is attending a simple taxation hearing for lawyers' fees. I had no previous history of mental illness nor did I exhibit any demonstrable signs of same at this or any other time. I do verily believe that Master Bishop's decision was not in the execution of his duty and is not supportable by any facts to warrant such a drastic order. Master Bishop provides no facts upon which this his order for an assessment was based – nor were there any.

See attached Exhibit "D" - true copy of Order and judgment, p. 3

28. On May 22, 1996, in compliance this judgment, I attended the office of Doctor Gary Lea. I explained the nature of the court's order and he should read my material to assist him in understanding my position. He agreed to read my material and a follow up visit was made for May 29, 1996. I was never provided with any Court Order from the judgment of Master Bishop.

29. The RCMP came to my house on May 24, 1996 and physically took me to the KGH McNair Wing, ICU, Kelowna General Hospital. I remained there against my will until May 31, 1996. This was one of the most frightening times of my life.

30. I was injected, without my consent, with the drugs Lithium, Haldol and Rispiridone as ordered by Doctor Latimer. These drugs should never have been used, nor was any such use, ordered by Master Bishop.

31. I was originally injected without my consent and against my will, with a gram of Haldol as verified to me by the nurse, within 15 minutes of being admitted on Friday, May 24. No more than 1/10 of that amount, that being 100 milligrams, is to be administered in any given 24 hour period. Anything more than this is dangerous. All weekend I was administered with Rispiridone and Lithium. I was totally incapacitated from the waist down as a result of the injection of Haldol.

See attached Exhibit "E" – The Complete Guide to Psychiatric Drugs – Dr. Edward Drummond , p. 199, "Dosing"

32. I was then forced to take in liquid form, the drugs Rispiridone and Lithium on a daily basis until my release on May 31 and sent home with a bottle of each.

33. Both Haldol and Rispiridone are anti-psychotic narcotics, only to be administered to those who suffer from psychosis. They are also administered for 'by polar, manic depressive' states. Dr. Latimer's position in his patient release report, admits that I was injected with up to 10 times the amount of drug that is to be prescribed, and that these drugs were administered to me PRIOR to any diagnosis. I have never suffered from psychosis nor bi polar manic depressive states nor any other illness which these drugs are administered to treat.

See attached Exhibit "F" – The Complete Guide to Psychiatric Drugs – Dr. Edward Drummond , p. 240-241

34. Side effects of these drugs such as vertigo and dizziness, tremors and involuntary muscle spasms still remain to this day. The short term effects of these drugs were profound. This medication stayed in my body for months afterwards.

35. After this examination and report, I then appeared back before Master Bishop on or about July 17th, 1996.

36. At this hearing before Master Bishop on or about July 17th, 1996, I was still under serious side effects from the drugs administered to me without my consent. These side effects included involuntary weeping, tremors, agitation, depression, dizziness, headaches and sweating. I was unable to procure legal assistance to appear before Master Bishop due to want of finances and as a result of my reliance upon Mr. Geekie's admissions to me that no lawyer is going to take another lawyer to court. As a result, the decision by Master Bishop was not obtained in a just nor fair manner. Most of the evidence I placed before Master Bishop, including my Affidavit of July 15, 1996, was never considered nor read by the Master, nor was it mentioned, even impliedly, in his judgment. I do verily believe he simply took advantage of my poor state of mind and body at this time. Master Bishop was unaware, to the best of my knowledge, of the actions of the lawyers of the Petitioner Salloum Doak and their misrepresentations to me over the 2+ years they were my lawyers.

See attached Exhibit "G" - copy of judgment of Master Bishop

37. Although there was an appeal period after the decision of Master Bishop, I was physically and mentally unable to appeal nor take any legal action due, inter alia, to the detrimental physical, mental and emotional side effects and trauma of the drugs which were forced upon me as a result of the psychological assessment, ordered without cause by Master Bishop. I was absolutely frightened and intimidated from taking further legal action due to fears of being drugged up again and having to so do without legal counsel.

38. The effects of these forced injections of drugs on me lasts to this day. I attached hereto a true copy of a letter from my doctor about the effects this action is now having upon my health at present.

See attached Exhibit "H" – true copy of August 17, 2005 letter

39. The Affidavit #2 of Mr. Hardwick in support of the Petitioner's Motion herein is materially false and misleading. For example, Mr. Hardwick evidences at para. 4 therein that the withdrawal from my case by himself and Mr. Geekie was not "...occasioned by the fact that the Respondent was suing a solicitor." I have attached hereto a true copy of the transcripts I have made from the meeting I had with Mr. Geekie on or about February 2, 1997, just 1 working day prior to my scheduled trial date.

40. Mr. Geekie admits to me that indeed the sole reason that himself and Mr. Hardwick were quitting on me at the last second before trial, was because, in Mr. Geekie's own personal words, there was a conflict of interest - this conflict however, if it existed, did exist from the very beginning when Mr. Geekie and Salloum Doak undertook to take my case on - both Mr. Geekie and Mr. Hardwick knowingly suppressed this fact from me. No facts thereafter changed in this regard. Neither Mr. Geekie nor anyone else told me of any conflict when they undertook to take my case on as my lawyer. The relevant parts of this tape last about 3 minutes or less and are a must to be heard by this Honourable Court prior to rendering its judgment herein:

a) five minutes and 59 seconds;

Hardwick: "…you have begun tape-recording – uh – discussions with – uh, Marvin and myself, and I can see that you're doing that again, today…"

b) twenty minutes into the conversation;

David: "Seventy-five hundred dollars! By the time I pay you out on this, am I going to have five cents left?"

Hardwick: "You would but - that would be neither here nor there."

c)forty-five minutes and five seconds into the tape-recorded conversations;

David: "This has told me that there aren't too many attorneys in this town that I can trust with this. In my inquiring about second opinions have given me a pretty good idea about how lucky I'm going to be, fielding and attorney for this."

Geekie: "Do you know why? – Do you know why?"

David: "I'm suing a lawyer."

Geekie: "Exactly. We have to live in this town. We have to deal with Marc Whittemore on a daily basis."

Geekie: "I mean, we're going to have an ongoing relationship with not only Marc Whittemore but other lawyers in town and that's why it's hard to get – uh – people to - - to - to sue other lawyers; simply for that reason alone. Not because there's a conspiracy out there but we have to live here, we have to be professionals here; and people talk – other lawyers talk."

41. Within twenty minutes of Grant Hardwick's assurance that I would have five cents left over from seven thousand five hundred dollars, Marvin Geekie presented me with a bill of more than fourteen thousand dollars. I do verily believe that the Petitioner's lawyers, Mr. Geekie and Mr. Hardwick, who originally agreed to take my case against Mr. Whittemore to trial, did so on the basis of simply making money off of me and had no intention from the beginning of appearing at trial. Mr. Hardwick deceived me into believing that he would take my case to trial in a competent and ethical manner and failed to do so. I do verily believe his actions constitute fraud and/or misrepresentation and/or deceit by the Petitioner's lawyers to obtain this claimed amount of money alleged to be owed, presently. I deny owing the amount of money claimed by the Petitioner due to fraud, misrepresentation, suppression of facts, gross professional negligence and a willful and knowing attempt from the beginning to deny me justice.

42. I have made true copies of the tape recording of this meeting on February 2, 1995, at which time I had told both Mr. Hardwick and Mr. Geekie that I was recording them and to which they acquiesced. I am providing a true copy of this tape to support my transcripts of this meeting and to fully and completely demonstrate that Mr. Hardwick is giving false evidence in his affidavit in support of the Petitioner's motion. This affidavit was before Master Bishop and he never considered it, he never read it and did not know of its entire contents. The tape recording was never listened to nor played in court by Master Bishop.

Hear a copy of a true, complete and annexed copy of the tape recording of that meeting

43. This false evidence is specifically on point with the actions that precipitated this entire matter between the Petitioner and myself. Both Mr. Hardwick and Mr. Geekie were working together on my claim when they quit on me just prior to trial. Mr. Geekie's comments to me were intended and I did interpret them to apply to both himself and Mr. Hardwick, especially as both lawyers were in the room talking to me for the first half of the interview. Mr. Hardwick who worked with Mr. Geekie on my case and entered into many discussions upon same with Mr. Geekie in respect of my case, was clearly aware of this position, which is contrary to his evidence at para. 4 of his Affidavit #2. It was Mr. Hardwick's decision to withdraw as my counsel just days prior to trial, again, contrary to his sworn evidence.

44. As a direct result of the comments and actions by Mr. Whittemore, Mr. Geekie and Mr. Hardwick, as well as a direct result of the still lasting side effects of the drugs that were injected into me, I have lost all faith in the justice system. I was unable and have been extremely frightened and intimidated from taking or initiating any appeals and/or other legal action because I knew and know that no lawyer would properly represent me as Mr. Geekie admitted to me, and I was absolutely terrified and intimidated that if I did, I would once again be subjected to psychological treatment and more drugs - I feared for my personal safety and life. If not for my friend David-Kevin: Lindsay assisting me here, I would be stranded as I have no idea what to do with respect to any legal processes and cannot obtain a lawyer. I absolutely need David to appear for me or I have no way of defending my self herein and I am absolutely frightened of appearing before this Court again due to my reasonable belief that any judge hearing me will once again try to force, directly or indirectly, more psychotic drugs into me.

45. In short, I have an excellent case and I can prove, if given the opportunity, that the decision upon which the Petitioner now relies was obtained via fraud, misrepresentations to myself and the court by officers of the court from the Petitioner's law firm, and with mala fides and other improper actions not in compliance with their duties as professional lawyers, as well as conspiracy to commit fraud and conspiracy to obstruct justice by the Petitioner's lawyers, Mr. Geekie and Mr. Hardwick, with Mr. Whittemore, who were obviously working together as evidenced by the taped admissions by Mr. Geekie that they so did. I was never told by Mr. Geekie nor anyone else, that they were working with Mr. Whittemore while simultaneously working on my case against him, at any time.

46. The actions of the law firm Salloum Doak, and previously, Mr. Whittemore, in my belief, have brought the administration of justice into disrepute. With Mr. Geekie advising me that my own lawyers would not fairly and properly represent me to the best of their ability and that no other lawyer would either, as a result of my suit being against another lawyer, I simply had no place to turn for help.

47. The justice system has failed me in this matter. I have not seen justice done nor have many of the people with whom I have spoken to over the years, including many peace officers and court officials. There has been a grave and manifest injustice committed against me. I had no recourse as a result of the combination of psychotic drugs and their side effects upon me for years later, and Mr. Geekie's ex post facto admission to conflict of interest and that no other lawyer would assist me either because they all have to work together in this town. Mr. Geekie knew of this conflict of interest since the date of his acceptance to be my lawyer; he knew Mr. Whittemore was a lawyer and still represented to me that he would take my case to trial, knowing full well that he would not do so.

48. Now I am backed up against a wall. I was hoping that my public demonstrations against the injustice in this case would assist me in this matter and that the Petitioner would simply leave me alone. I am still counting on public opinion to assist me in my quest for justice because, as Mr. Geekie readily admits, no lawyer is going to help me. If the Petitioner is successful he will force the sale of my home where I have lived for 19 years and put me out on the street - a further travesty of justice upon me.

49. The Petitioner had no right to judgment in my case in the past and this was obtained only as a result of the Petitioner's lawyers deceiving me for years that they would competently take my case to trial, that I had a fairly good chance of success and what lawyer Marc Whittemore did to me was improper, only to admit days prior to trial that they would not so do because suddenly I had a very little chance of success and that no one was going to assist me suing another lawyer, including my own lawyers. I should have been told this upon my first meeting with them and the Petitioner's lawyers are the authors of their own misfortune as they knew the nature of my case from the beginning and agreed and undertook to be retained under these conditions. In short, the Petitioner's lawyers committed fraud, misrepresented themselves to me, lied to me and deceived me for more than 2 years to obtain their judgment.

50. I rely on the principles of law that for every wrong there is a remedy. There must still be some remedy for the wrongs that were inflicted upon me by the lawyers Geekie, Hardwick and Whittemore, as well as the improper and unethical use of psychotic drugs upon for me for no other reason than my attempt to obtain justice and which exposed corruption and unlawful actions by the Petitioner's lawyers and Mr. Whittemore. The only remedies that I can think of, is to either have the case reopened, or to permit me to file my Petition to strike the Petitioner's claim against me in this action. This may result in having to reopen this file as well.

51. Mr. Hardwick's evidence at para. 3 and 6 of his Affidavit #2, which I quote below, constitutes the use of legal fictions and are not permitted to be used in an affidavit deposing of fact, whether hearsay or direct personal knowledge. At no time does Mr. Hardwick admit to these being facts.

Para. 3 - "The failure to respond to the other paragraphs should not be seen as admitted any truth or relevance to those other paragraphs."

Para. 6 – "A lack of response should not be seen as agreeing in the slightest with his allegations."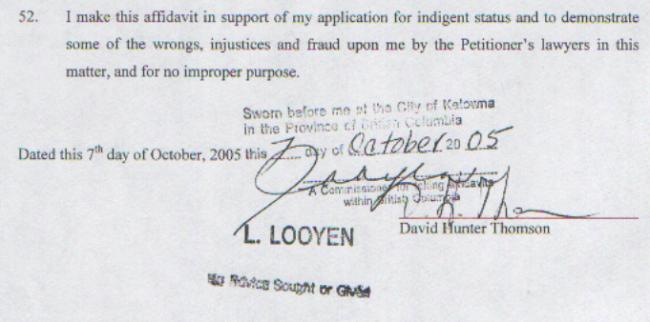 Back to "Addendum"